Olimex - SofPoint® Retail Pack [VBLUE on BLACK] for OLIMEX PIC-LCD3310 Joystick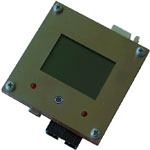 Olimex - SofPoint® Retail Pack [VBLUE on BLACK] for OLIMEX PIC-LCD3310 Joystick
SofPoint® caps are for Olimex PIC-LCD3310 Joysticks. Use this cap to replace worn-out or missing caps.
PACKAGE CONTENTS: 6 caps

MODELS: PIC-LCD3310

COMPATIBILITY: Fits SQUARE joy stick ONLY

SUPPORT: SofPoint® original equipment caps are supported by SofProducts® Technical Support when used with an Olimex system.

HIGHLIGHTS: This product has been tested and validated on Olimex systems to ensure that it will work with your development board joystick.

CAP REPLACEMENT: Pull old cap straight up to remove. Align the recess in the bottom of the new SofPoint® cap to the joystick post and press down firmly.

TECHNICAL SPECS: Concave Shape / Nub and Rim Design / Firm Feel
sold out
Cap for the JOYSTICK on the PIC-LCD3310 development board with PIC18F67J50, NOKIA 3310 BW 84x48 pixels LCD joystick. The perfect solution to optimize the joystick module effectiveness of this motion data logging/analyzing tool. The cap makes it easy to use the integrated joystick device.